Winston-Salem Traffic Lawyers
Legal Advice for North Carolina Traffic Tickets
Driving is an essential part of daily life for many people. However, a driver's license is a privilege that can be suspended or revoked if you are convicted of a serious traffic offense. At Grace, Tisdale & Clifton, our traffic offense lawyers in Winston-Salem work to minimize the impact of traffic offenses.
Are you facing charges for a traffic offense? Contact us at (336) 515-6552 to discuss your situation with one of our Winston-Salem traffic attorneys.
Types of Traffic Offenses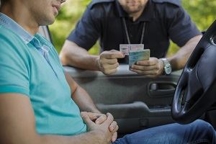 Situations often arise in which law-abiding citizens are faced with traffic offenses. Many people don't consider these citations to be serious and simply pay the fine to avoid a court hearing. Although this seems like the easiest route, it is not always the best decision.
It is important to understand there can be other consequences to pleading guilty, such as higher rates for your car insurance, or driver's license suspension or revocation.
We frequently represent drivers facing charges for:
Reckless driving
Hit and run
Driving with a suspended or revoked license
Speeding
Other serious traffic offenses
What are the Penalties for Traffic Offenses?
The consequences for traffic offenses depend on the offense and specifics of the situation. However, you could be facing a large fine, points on your driver's license, license suspension or revocation, or even a jail sentence.
A conviction for a serious traffic offense can have lasting consequences on your life and your reputation. Representation from an experienced criminal defense attorney can make a significant difference in the outcome of your case.
Our Winston-Salem traffic lawyers have more than 150 years of combined experience representing clients charged with all types of traffic offenses, even the most serious charges.
Contact us at (336) 515-6552 to schedule your consultation with one of our traffic offense lawyers in Winston-Salem.